Mechanical Plastics Reduce Friction and Extend Wear
DuPont high-performance mechanical plastics are low-wear, low-friction solutions. The strength, stiffness, and fatigue resistance they provide can help protect moving parts, extend product life, and reduce maintenance.
Tough Mechanical Plastics Can Lower Costs
Friction produces wear-and-tear that shortens the lifecycle of materials, decreases product performance and efficiency, and increases maintenance and replacement costs. In many cases, the higher the co-efficient of friction, the lower the life of a part or product.
DuPont material science resources work with manufacturers in application development from concept to commercialization, offering material application experience to support evaluation of end-uses that require low-wear, low-friction resins, parts, and seals.
Plastics with excellent mechanical properties also provide resistance to corrosion and abrasion, reduce molding costs and finishing time, and can simplify assembly.
Types of Applications
In conveyors and other industrial machinery, more durable plastics allow the load-bearing capacity to be higher and the sliding speed to increase, so the system becomes more reliable and powerful or energy efficient.
In automobile applications, reducing friction translates into greater engine efficiency and reduced fuel consumption. At the same time other mechanical properties, like strength and stiffness, along with chemical resistance and moldability, support innovations across a wide range of applications.
Delrin® for Industrial Conveyors
DuPont™ Delrin® internally lubricated, wear-resistant resins are also used to help solve wear, friction or noise problems in conveyors across a range of industries from food processing to semiconductor manufacturing. Delrin® low-friction grades allow for a longer lifetime of chains and wear strips, smooth sliding of goods, quieter motion, and lubrication-free operations.
Delrin® Selected By Renault For Fuel Pump
Delrin® was chosen by automaker Renault for a fuel-level measurement device and fuel pump, due its excellent mechanical properties, chemical resistance, and better moldability. For Renault, this meant fewer parts, lower costs, higher productivity, and better quality.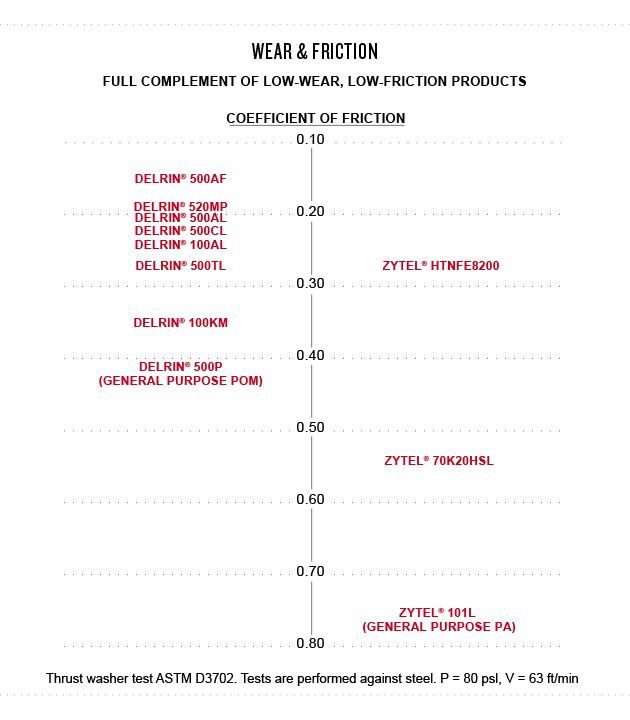 An Integrated Solution for BMW Car Doors
Delrin® is also used in car doors by automaker BMW. While the standard steel component is lubricated with grease, to allow it to move freely, this approach requires routine maintenance. BMW, in collaboration with DuPont engineers, identified a low-friction, high-performance alternative using Delrin® 100KM Acetal Resin, modified with DuPont™ Kevlar®.
The low-friction plastic made by combining these two materials was used for the cladding on the door checks of BMW's Series 5 limousines, helping to ensure that the doors open and close smoothly and silently, without lubrication.
Vespel® Low-Wear, High-Efficiency Bushings
DuPont™ Vespel® bushings were selected for a new exhaust gas recirculation (EGR) valve, designed to help meet new emission standards for diesel engines.
Vespel® bushings provide excellent heat resistance, wear performance and self-lubrication, while acting as the key bearing surface in a new control arm linkage designed by Taiho. Vespel® bushings maintain performance over the life of the EGR valve despite operating in a very aggressive environment, helping ensure compliance to new emission standards.
The lack of a melting point or above glass transition temperature (Tg) enables Vespel® SP bushings to survive the high temperatures found near the engine and exhaust system. This characteristic allows the bushings to help perform without lubrication, even when exposed to the dirt and contamination found in the engine compartment, which isn't possible for a metal bushing.
High-Efficiency Mechanical Plastics Save Energy
Only about 15 percent of the energy in a gallon of fuel makes it to the drive wheels, in other words, most is lost to inefficiencies. About 10 percent of this lost energy is attributed to friction between moving parts, equivalent to several million barrels of oil a day. So improving powertrain efficiency by reducing friction and wear can improve fuel efficiency and help make mobility more sustainable.
By defining a set of critical material properties that impact wear at high temperatures, DuPont scientists have been able to demonstrate improvements in wear in the range of 60-70% with materials like DuPont™ Vespel® SCP resins. Research done at DuPont with Vespel® SP-2515 a graphite-filled polyimide — instead of PEEK (polyether ether ketone) — demonstrated a 45% to 55% reduction in friction, even at cold temperatures.