Chemical Resistant Elastomers Made For Demanding Uses
DuPont chemical resistant elastomers and thermoplastics supply durable sealing and flexibility for demanding applications.
From elastomers used in auto engine seals that can withstand new, emission-reducing fuels to parts used in oil and gas down-hole applications, DuPont has answers for today's toughest challenges. We back our materials with expert application development assistance that begins with a concept and continues through installation.
Specifying the Right Material
Specifying the chemical, heat resistance and other properties that match your product use and processing environment is critical. Both over- and under-specifying can be costly, and achieving "just right" results is a process of testing, analysis and consultation.
As a starting point, here is a quick list of DuPont chemical resistant elastomer and thermoplastic materials: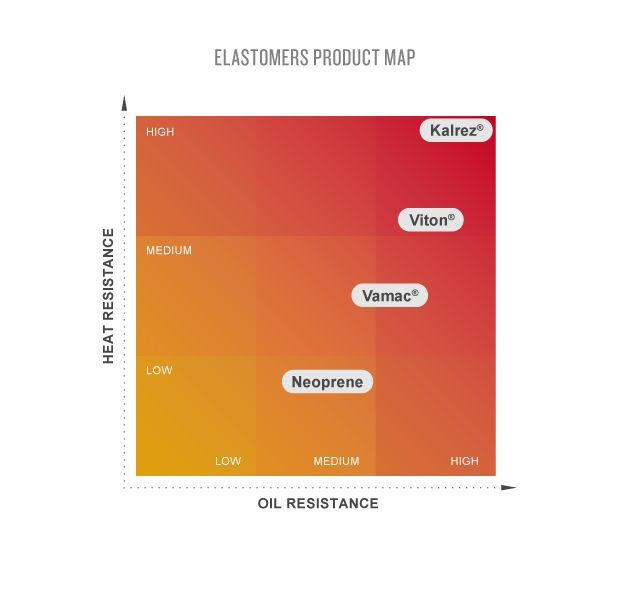 Kalrez® Perfluoroelastomer Parts: Highest Chemical Resistance
For the most demanding applications, DuPont™ Kalrez® perfluoroelastomer (FFKM) parts have the best fluid resistance of any elastomer. Kalrez® parts and seals resist over 1,800 different chemicals, while providing high temperature stability of PTFE (327°C). These advanced properties bring unrivaled performance to seal integrity, helping to reduce maintenance and operating costs, and improving safety.
Kalrez® parts are typically used in chemical processing, semiconductor manufacturing, food and pharmaceutical processing, aerospace, and oil & gas. From jet engine lubricants and rocket propellants to down-hole oil environments of the oil industry, Kalrez® perfluoroelastomer parts have been demonstrated to withstand severe chemicals and conditions.
DuPont offers a number of different Kalrez® compounds, each formulated for optimal performance in conditions with various chemicals and temperatures.
Vamac® AEM: Focused on Engine & Powertrain Uses
DuPont™ Vamac® ethylene acrylic elastomer (AEM) is widely used in applications where heat and chemical resistance, as well as rubber-like qualities, are needed. Widely used in the auto industry, it can help promote longevity in powertrain and air management systems, and help provide long-term durability under chemical exposure and heat.
End-products made with Vamac® have been demonstrated to provide excellent resistance to hot oils and hydrocarbon- or glycol-based lubricants, transmission and power- steering fluids. Low oil swell offerings are based on grade selection and compounding.
Since being introduced, the AEM family of Vamac® Ultra has been quickly adopted by the market for a step change improvement in processing and performance, providing excellent resistance to engine and transmission lubricants, or to acids from exhaust recirculation and closed crankcase ventilation systems. Higher viscosity Vamac® Ultra grades can allow the development of various compounds without the need for DOTG as part of the cure system.
The Vamac® product portfolio is well suited to address a broad range of needs for molding and extrusion applications, including reduced oil swell, and low or high temperatures.
Engine and transmission seals made with Vamac® have been shown to retain their sealing properties under pressure. Transmission lip seals made with Vamac® have been shown to maintain performance when subjected to pressure and heat — or cold.
Generally speaking, ethylene acrylic elastomers are resistant to weather, ozone, hydrocarbon lubricants and greases, and hydraulic fluids. They're not selected for contact with aromatic hydrocarbons, esters, gasoline and ketones.
Hytrel®: A Versatile Elastomer/Thermoplastic Hybrid
DuPont™ Hytrel® thermoplastic polyester elastomer provides a spectrum of mechanical properties, as well as mid-range chemical resistance. Its strength is in its versatility, combining the flexibility of rubber with the strength of plastics and the processability of thermoplastics. If your project requires a material with strength and moderate chemical resistance, Hytrel® is an excellent choice.
Parts made with Hytrel® can flex in multiple directions, cycle after cycle, long after rubber would break. A prime example is the Constant Velocity Joint (CVJ) boot. This automotive component is constantly in use, it's subject to an average of 150,000 miles of pounding and a range of temperatures — from winter lows to scorching summers.
Hytrel® is an excellent choice when innovative new designs require creation of unique parts, since it can be processed using many thermoplastic methods, including extrusion, injection molding and blow-molding.
*The Viton® fluoroelastomer business is now part of The Chemours Company.  Visit chemours.com for more information.
*For information on Neoprene, contact http://www.denka.co.jp/eng/organic/product/