Focus on the Properties that Matter Most
Typically, DuPont elastomers are selected for important performance qualities, whether the need is sealing, flexibility, durability or reliability. We provide specialized materials for use with aggressive chemicals and high temperatures, as well as for strength and flexibility, to replace metals in a range of industrial uses.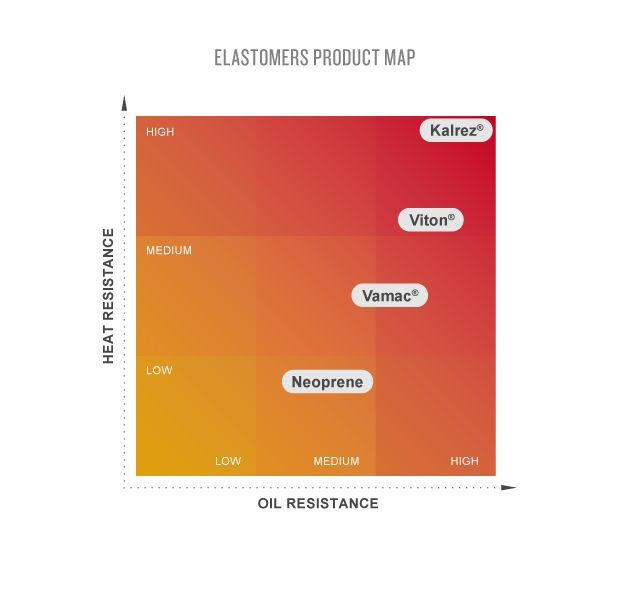 Elastomer properties include resilience — some elastomeric materials can be stretched repeatedly to twice their length and return to their original shape. They provide flexibility from their polymer composition, above glass transition temperature (Tg) for end-use requirements, and don't melt in high temperatures. As a result, elastomers are used in a myriad of products, from hoses and cables to adhesives and clothing.
How Elastomers are Made
Elastomer rubber compounds are made from five to ten ingredients, each ingredient playing a specific role. Polymer is the main component, and determines heat and chemical resistance, as well as low- temperature performance. Reinforcing filler is used, typically carbon black, for strength properties. A plasticizer is used to improve low- temperature properties. Other ingredients include anti-oxidants, a release package, a scorch retarder, a curative, and an accelerator. Hundreds of compounds can be made from one base polymer. 
A baking analogy is a good way to describe the process of making elastomer compounds.  Polymer is the flour, curative is the egg, plasticizer and release package are the butter, and the blowing agent is the baking powder. These ingredients are mixed and then molds are filled, all at a low temperature, to avoid "scorch." Then, the mixture sets by curing, "the oven," to achieve the right balance of properties.
Curing is Critical
Curing is done at a high temperature, and helps create long-chain polymers connected by crosslinks. These crosslinks create an elastic nature and provide recovery characteristics to the finished material. They're also stable under heat and pressure. Elastomer properties, and performance grades, are the end result of both the materials and curing steps used — allowing DuPont to develop elastomers with properties that can help meet highly specific application requirements.
Three performance grades
Broad performance grades range from the most basic to high performance. It's essential to choose the right grade. Over-specifying can lead to paying for more performance than an application requires. But underspecifying can also be costly, if it leads to a less-than-ideal product or manufacturing process.
Acrylic/Ethylene Copolymer (AEM)

Good oil, fuel and ozone resistance

High performance
DuPont Elastomer Product Overview
DuPont has developed a portfolio to elastomers that can help deliver reliable solutions for a wide range of applications. Starting with Neoprene, the category leader invented by DuPont over 75 years ago, to Viton® a high performer that has been demonstrated to perform under extreme conditions, there are DuPont elastomers for numerous engineering challenges.
DuPont™ Vamac® ethylene acrylic elastomer
Properties – good heat resistance up to 175°C, low-temperature properties, good resistance to engine oil and ATF, good comp set.
Ethylene Methyl Acrylate copolymer with cure site monomer
DuPont™ Kalrez® — FFKM Elastomer
Properties – highest-performing elastomer with excellent heat and chemical resistance. DuPont manufactures finished parts.

Heat resistance up to 327°C.

Very low volume swell in aggressive chemicals and plasmas.

Long seal life for low operating costs.

Applications – Chemical and hydrocarbon processing, semiconductor manufacturing, aerospace engines, FDA-compliant food, pharmaceuticals and beverages.
Processing Quality In
Elastomers can be processed in several ways, depending on the compound and the desired outcome. Injection molding uses high pressure to force the rubber compound through runners and into the mold. Another molding technique is compression. This process can handle very-high-viscosity compounds. Initially, the compound is processed into a pre-form; then, the pre-form is put into a mold and cured. Parts made from Vamac® are typically post-cured after compression molding.
Extrusion is used for hoses, tubes, wire and cable. The key is to avoid a curing reaction during the extrusion. Hoses and tubes are typically cured in a steam autoclave, using a patch process, then placed on a formed mandrel to achieve the required shape.
DuPont Material Scientists are Elastomers Experts
DuPont has played a significant and important role in inventing elastomers, and we have unparalleled history and expertise in this category. DuPont has manufacturing and fabricating facilities in Asia, the Americas and Europe, as well as local experts in over 65 countries, accessible through our 11 global innovation centers. We are uniquely positioned to help you in your specification, formulation, compounding and processing elastomers for successful outcomes.
*The Viton® fluoroelastomer business is now part of The Chemours Company.  Visit chemours.com for more information.
*For information on Neoprene, contact http://www.denka.co.jp/eng/organic/product/